The Observer Team
Meet some of the GLOBE Observer team:
Jeannie Allen, Research Scientist/Education & Outreach Specialist, NASA Goddard Space Flight Center (Science Systems and Applications, Inc.)

Photo of clouds taken on April 23, 2016, facing east. lat: 35.113281 long: -106.621216

After getting a BA degree in Art History and spending 5 years in the northern California woods, I settled on science education as a way to use my passion for visual arts, communication, and science. I worked for the National Geographic Society for 12 years and at the same time got a Master's degree in Biogeography. In 2000, I joined Science Systems and Applications Inc., a contractor to NASA, where I still build educational bridges between scientists and their space-based studies of the Earth, to the non-science public. I develop partnerships to bring remote sensing to a wide community of learners; conduct faculty and teacher training; develop classroom activities; evaluate informal and formal education products; and write for websites. I now live in New Mexico. And I love to play West African drums!
Autumn Burdick, GLOBE Observer Communications Director (Science Systems and Applications, Inc.)

Photo of clouds taken on May 21, 2015, facing northwest in Laguna Beach, California. (

33.5471455,-117.845702)

Autumn Burdick is science writer, editor and social media specialist. She has worked for a variety of NASA websites and projects involving both solar system and Earth science.

"Clouds always add a sense of magic to my day. I particularly enjoy viewing clouds of the afternoon variety. Some of the most magnificent clouds I have seen were while I was on vacation in Hawai'i and Sweden."

Brian A. Campbell, Senior Earth Science Specialist, NASA Wallops Flight Facility (Global Science and Technology, Inc.)

Cloud cover view to the west, Cheyenne, Wyoming, 7/22/16, 41.158458, -104.837304

When I was a child, growing up in Eastern Pennsylvania, I used to sit on my grandparent's porch before and during a thunderstorm. My grandfather knew just how bad the storm would be, based on the shape and color of the clouds that were overhead or rolling in. He didn't know the actual names of the clouds or the science behind them, but he was amazingly accurate. He would say something like, "Look at that dark, stormy cloud over there. In about 3-4 minutes, it will be overhead and it will rain for about 6 minutes." I used to be amazed at what he knew. Even though he didn't know the science of how it all worked, he almost always knew what was to come, by just looking up.
Dr. Lin Chambers, Physical Scientist, NASA Langley Research Center

Photo of clouds taken near Seward, Alaska

I have been watching clouds from both sides since I was a small child flying in airplanes with my parents. Looking at the fantastical landscape of cloud tops is still one of my favorite things to do when I travel. From the ground my favorite clouds are altocumulus. Here I am demonstrating a cloud height identification technique with some altocumulus clouds behind my house. They look about the size of your thumb held at arm's length.
Peter C. Falcon, Earth Science Outreach Coordinator, Jet Propulsion Laboratory

Sunset Clouds over Pasadena, CA

Peter Falcon is a NASA Earth Science Education and Communication Specialist at NASA¹s Jet Propulsion Laboratory. Peter has worked for NASA for over 22 years, starting as a summer intern, an Academic Part Time employee, and transitioning to a full time employee. He is the Education and Communications lead for the QuikSCAT mission, RapidScat mission and the JPL lead for the CloudSat mission. He is a GLOBE Partner and trainer working closely with both domestic and international schools; and helps to establish new GLOBE schools by conducting educational workshops.
Dorian Janney, Senior Education/Communication Specialist, NASA Goddard Space Flight Center (ADNET Systems, Inc.)

Clouds from the Mountains

I've always been accused of "having my head in the clouds". It's true - I have lofty ambitions and love being up high. I recently went skydiving, and as I jumped from the plane, my first thought (after remembering to make myself breathe) was how cool the clouds looked as I fell down toward Earth. Clouds are forms of art to me - and I never tire of watching them in their different moods.
Holli Riebeek Kohl, GLOBE Observer Coordinator, NASA Goddard Space Flight Center (SSAI, Inc.)

Clouds from Pasadena, CA

A healthy sense of curiosity brought me to science. After getting a physics degree, I realized I had a whole lot more fun communicating science than spending time in the lab. My science communication career brought me to NASA's Earth Observatory web site and eventually to GLOBE Observer. I am fascinated by the variety in nature and therefore have a tough time choosing a favorite sky. I love seeing how much clouds change day to day.
Dr. Rusty Low, Climate Scientist, Institute for Global Environmental Strategies

Cloud cover view to north: 8-24-16, 4:35 pm, 40.047050, -105.272148

I work in Boulder, Colorado, and despite Colorado's long-held claim of 300 days of sunshine each year, our state climatologist suggests that in reality it's only about half that. Good news for those of us who like clouds-and I do- especially those that deliver rain to our fire prone landscape here in the mountains. My spouse is a volunteer firefighter so I am always on the lookout for water dogs, those small patches of grey fog that rise from the ground after a rain and are easily mistaken for smoke.
Sarah McCrea, Education Outreach Coordinator, NASA Langley Research Center (SSAI, Inc.)

Photo: Facing East, 7/22/2016, 7:30pm 36.16, - 79,25 Flying Home from the GLOBE Annual Meeting

Growing up in the era of the Discovery Channel show Storm Chasers and watching water spouts on the banks of the Great Lakes every summer, I developed a love for weather at a very young age. The sheer ability for clouds to grow to a massive size and for weather phenomena to become so powerful in a matter of minutes inspired me to study atmospheric science. Today as an Education and Outreach Coordinator at NASA, I continue to explore my love for weather, looking at clouds from new perspectives- ground, air, and space!
David Overoye, GLOBE Data Information Systems Project Manager, Science Systems and Applications, Inc.

Here's one of my cloud pictures from the middle of nowhere, Alaska. (6/22/2016 if you want to look for it in the vis system!) Latitude 65.145677° | Longitude -166.281527°

Hi – I'm Dave Overoye, and I manage the technical infrastructure for GLOBE and GLOBE Observer. My job is to support NASA and our users by designing and building the different websites, applications and mobile apps used by GLOBE. Now that I have the GLOBE Observer app, instead of capturing Pokemon, I'm taking pictures of clouds! I find myself looking up at the sky and noticing – "that's a persistent non-spreading contrail up there in those cirrus clouds". I also take observations when I'm on vacation…that way I can see the places I've been on the GLOBE visualization system. It's great to be a part of such an amazing program – I hope you enjoy GLOBE Observer and become an Observer too. If you have any thoughts or suggestions, please use the Contact Us link to send them along.
Tassia Owen, Outreach/Communications Specialist, NASA Goddard Space Flight Center (Global Science and Technology, Inc.)

This is a photo I took from Maui while on vacation. The clouds form on the windward side of the island as the moist air condenses as it is pushed up over the island. As the air warms as it sinks on the other side of the mountain, the clouds disappear.

I live in Portland, Oregon where at least nine months of my year is shrouded in clouds. Cloud cover and I are like best friends. It wasn't until I completed my Master's of Science in geoscience that I gained a full appreciation of how the mountains and the ocean in the Pacific Northwest impact the cloud cover. Seeing a lenticular cloud just perched on Mt. Hood's peak reminds me that the ground below and the sky above are all part of the system that makes up our Earth.

Jessica Taylor, Physical Scientist, NASA Langley Research Center

Halo Image during GLOBE Atmosphere Teacher Workshop in Hampton, VA

I grew up nearby Tampa, Florida - the lightning capitol of the world! I loved watching storms from the back porch, and I would calculate the distance of thunderstorms by counting the number of seconds between the flash and the thunder. I went on to study Meteorology at Florida State University and that's where I began collecting data with The GLOBE Program. It's awesome to be working for NASA and to share my love for doing science with GLOBE.
Kristen Weaver, GLOBE Observer Deputy Coordinator, NASA Goddard Space Flight Center (SSAI, Inc.)

Clouds over Copenhagen, Denmark while on vacation.

As a kid, I loved exploring the environment, whether it was identifying plants on hikes in the Rocky Mountains in my native Colorado, searching for planaria in the stream at the local park, or reading about what caused weather changes. As a middle school teacher, I enjoyed sharing my love of science with my students. That education work brought me to doing outreach with the Global Precipitation Measurement Mission at NASA Goddard, and from there to my current work with GLOBE Observer. I think clouds are even more beautiful when you understand the systems that create and move them.
Did you Know?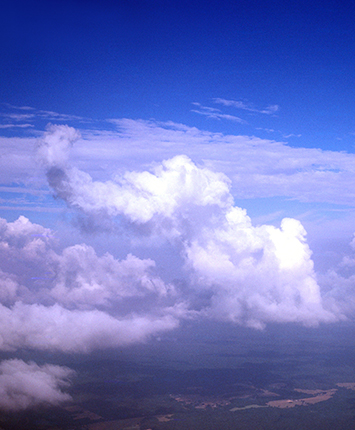 Elephant Cumulus
Cloud type is cumulus congestus: these are clouds that are more strongly developed than fair weather cumulus and may become thunderstorms later in the day if the atmosphere is sufficiently unstable.
Photo taken by Dr. Bruce Wielicki, CERES Principal Investigator.
Node: ip-172-41-2-197.ec2.internal